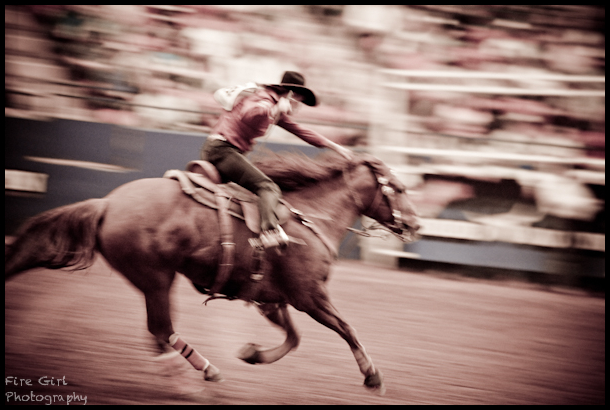 Different photographers have different ways of conveying motion.  Some like to capture a completely "still" image of the moment, the motion implied.  Other still will "add" motion in post-processing by increasing sharpness and tampering with the depth of the light in the image.
And then some like to capture motion in the initial capture.  This series from the Austin Fair and Rodeo was shot with that in mind.  There is so much going on in a rodeo, so much motion.  Most spectators will never see half of it; they are too busy watching the action in the arena.  They miss the quiet moments with the rough stock riders as they pray before they ride, the laughing congratulations between competitors after the round.  Most of the best action is outside the arena.
That said, the typical rodeo action can be captured creatively as well.  Get down.  Get dirty.  The best rodeo I ever photographed I came home covered in mud and spend two hours cleaning the kit.
Do what you have to in order to capture the motion.
Tags: Techniques