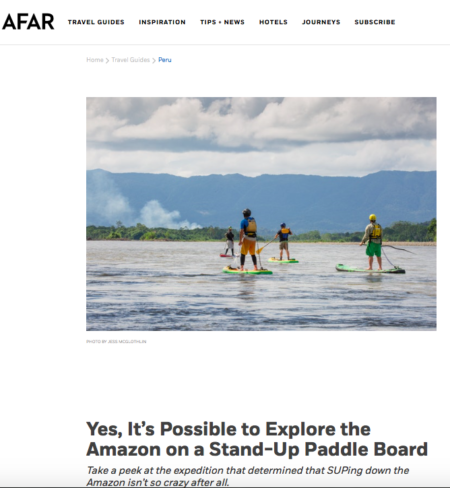 Really happy to see this piece come to life on major travel lifestyle AFAR. May's expedition with Apumayo Expediciones was one of the best water-based adventures I've had to date — thanks to the Peruvian team who made it happen!
Here's an excerpt; read the full piece on AFAR.com.
"The air is hot and heavy in the Peruvian Amazon, and when I take a deep breath it tastes of plants, decay, and sweat. Hot sub-tropical sun falls on my back as I trail my toes through the chocolate-brown water. Sweat drips down my face, and an ambitious sand fly lands on my neck, defying the layers of DEET I've applied in the hours since dawn. I slap it away and watch the water ahead as we seek out the best path for the SUP boarders trailing us.
I'm in the middle of the Amazon, floating down one of its several tributaries on this once-in-a-lifetime experience thanks to Pepe Lopez. The founder of Cuzco-based Apumayo Expediciones, Lopez is our fearless leader on this expedition. On the surface, our mission is simple: to explore rivers near and in Peru's Manu National Park to determine if it would be feasible to create a stand-up paddle board (SUP) adventure tourism program to showcase the area and the river."
Tags: Publications