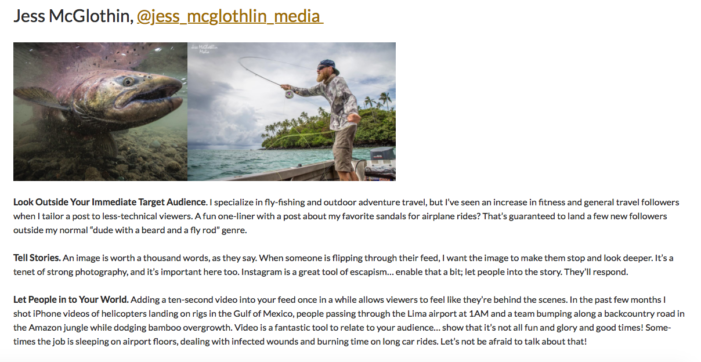 It's such a pleasure to be represented by Aurora Photos; their team is doing a great job of offering up resources for photographers and photo buyers / editors alike. When they reached out recently for several business-based Instagram tips, I was happy to share a few. My Instagram is an ever-evolving process… I'm always learning what people like (and don't like) and trying to share those realistic, behind-the-scenes moments that makes the all happen.
Below are my tips for Aurora; read the rest of this feature on their site here.
Look Outside Your Immediate Target Audience. I specialize in fly-fishing and outdoor adventure travel, but I've seen an increase in fitness and general travel followers when I tailor a post to less-technical viewers. A fun one-liner with a post about my favorite sandals for airplane rides? That's guaranteed to land a few new followers outside my normal "dude with a beard and a fly rod" genre.
Tell Stories. An image is worth a thousand words, as they say. When someone is flipping through their feed, I want the image to make them stop and look deeper. It's a tenet of strong photography, and it's important here too. Instagram is a great tool of escapism… enable that a bit; let people into the story. They'll respond.
Let People into Your World. Adding a ten-second video into your feed once in a while allows viewers to feel like they're behind the scenes. In the past few months I shot iPhone videos of helicopters landing on rigs in the Gulf of Mexico, people passing through the Lima airport at 1AM and a team bumping along a backcountry road in the Amazon jungle while dodging bamboo overgrowth. Video is a fantastic tool to relate to your audience… show that it's not all fun and glory and good times! Sometimes the job is sleeping on airport floors, dealing with infected wounds and burning time on long car rides. Let's not be afraid to talk about that!
Tags: Jess McGlothlin Media, Random Bits