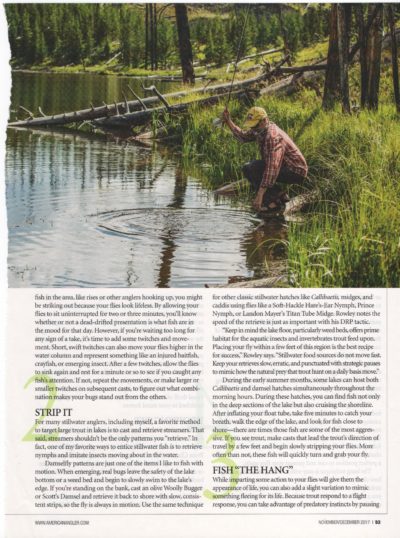 Always fun to see what makes it into the pages of American Angler. There are some full-length image / written features coming up, but snuck this image into the October / November issue in the meantime. Angler Jake Wells made the most of a hot afternoon fishing a lake during a horsepacking backpack trip into Montana's Absaroka-Beartooth Wilderness last summer with the awesome folks at Absaroka-Beartooth Outfitters.
It was a hot July day; we'd worked our way along Hellroaring Creek, fishing deep holes and pushing through slow sections. Outfitters Cameron dropped us downriver and took the horses upstream… the Montana version of valet parking. At one point I put the camera down and went eight fish for eight casts — the fishing was that good — and was once again reminded there's something special about healthy, hungry Yellowstone Cutthroat who will eat (or attempt to eat) anything in their line of vision. Afterward, we mounted up and headed uphill to this lake, where we fished for a bit and then went for a swim in the frigid waters (it's a good day shooting when I can grab the underwater housing and swim out into any water to photograph an angler back on the shore).
Just another day at work in the wild country of Montana.
Tags: Publications