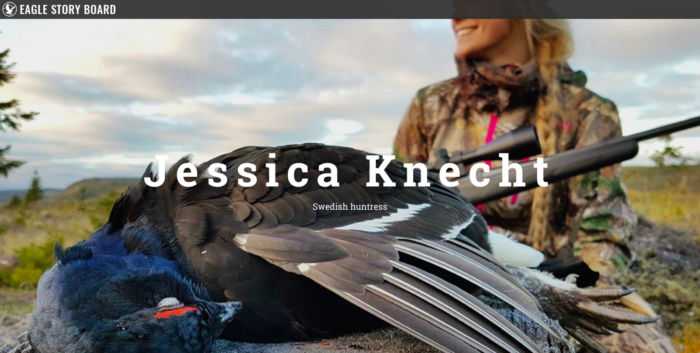 I'm always looking to work with new, fresh and innovative clients in new marketplaces. To that end, it's been interesting to undertake a series of interviews for European sporting travel resource Eagle Review. The Eagle Review team has done a great job in committing to parallax scrolling storytelling, and it's been fun to see this piece come together.
The first interview is on Swedish hunter and angler Jessica Knecht. Here's a snippet:
The athletic Swede has outdoor pursuits in her blood. Most members of her family hunt and fish, including her mother who has just started to join the rest of the family in the field. Her boyfriend Nils is also an avid outdoorsman, and Jessica notes the relationship has a few benefits. "One of my favorite kind of hunts is hunting for black grouse in snow-covered landscapes," she shares. "Jämtland, where Nils comes from, has excellent opportunities to hunt for these beautiful birds!"
Jessica's skills are not limited to hunting, however, and she also credits her father with her fishing skills. While fly-fishing is a new undertaking, she's quickly growing within the sport and enjoys the process, noting, "Practice makes perfect! I still have a lot to learn, but that's also what makes it fun." She always ensures she has a cell phone nearby to capture the moment, adding it's the one thing she'll never leave home without.
Give the brief article a read, and look for more to come in this series.
Tags: Publications