Somehow we're into August — just where did summer go, exactly? — and I've been making the most of a few weeks back in Montana. Spring and early summer was mostly spent on the road, and finally I find myself back in Big Sky country for a little while, waking to smoke-scented skies and that late summer haze.
One benefit of being home for a stint is there's nothing keeping me from getting up with the sun, getting gym and work done early, and heading up into the mountains for a bit of recreation. While the hills around Bozeman are lousy with tourists and yuppies, there are still some places where it's possible to escape the crowds. I've been loading up the stand-up paddleboard for a bit of evening fishing, logging mileage on evening hikes and exploring a few backcountry creeks brimming with healthy populations of cutthroat trout.
Along the way, I find I keep reaching for the same gear over and over again. It's the same when I'm traveling — I find basics that I can trust, and use them repeatedly until they run out or literally begin to disintegrate (it's been known to happen). This is a non-photo gear list… this is for all the general outdoor folks looking for gear that "gets it done."
Here are a few things I've been reaching for again and again this summer: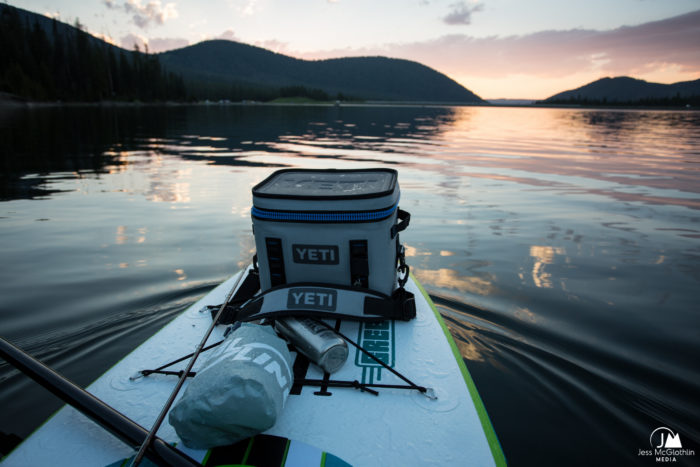 BOTE Breeze Stand-up Paddleboard. Water makes me happy, and any excuse to spend more time on (or in) it is a worthy endeavor. This inflatable SUP has been strapped to the roof of my Subaru at least three days a week, and is proving to be a fun, stable platform for either recreational touring or fishing. Last week I managed a breezy downwind run on a local lake, aiming the board to run with the wind and fishing as the wind pushed me. Effective and fun… though the paddle back up-wind was a workout. (It also proved to be a stable carrier for a YETI Tundra stocked with beer while floating with a group of visiting guides from Alphonse last week.)
This has been my year of the SUP, apparently, with a Peruvian Amazon SUP expedition this May and then a SUP bass fishing multi-day in June with Mia Sheppard from Oregon's Little Creek Outfitters. I'm excited to see what further adventures we undertake… the board folds up to fit inside a backpack, so I foresee many flights to tropical locales in the future!
SealLine's Blocker Dry Sacks (in the photo above) have made life on the SUP easy… I just throw what I need in the bag, clip it to the SUP, and go. The 15-liter size is perfect for sunscreen, my wallet and keys, and a snack, and the white color doesn't heat up like a dark-shaded sack would. I have total faith in SealLine's welded-seam construction (read: no worries when I catch an edge on the SUP and flood my board), and it folds up small enough to fit in my pocket, making it a no-brainer for travel.
Zinka Clear Zinc Oxide Face Stick: Blame the fact I'm turning 30 this winter, but I've finally realized that red-level sunburns are not the healthiest thing around, and I'd better act like an adult and up my sunscreen game. After a long search of looking for a zinc-heavy product, this 50 SPF Zinka formula goes on fairly clear and gets the job done. As a bonus, the twist-up applicator means I can put it on without worrying about sunscreen gunk getting on my hands and then the cameras!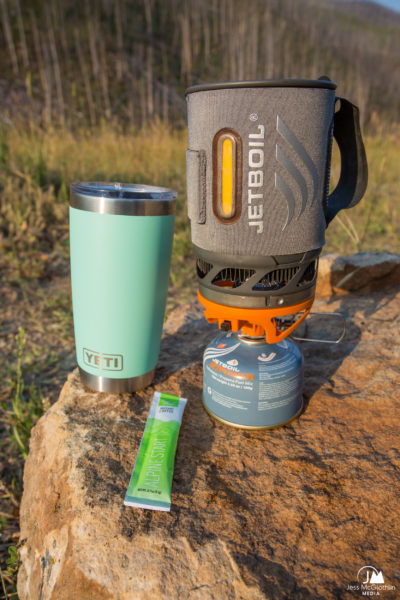 Alpine Start instant coffee. When a couple boxes of these instant coffee sticks showed up in my mailbox, I was intrigued. For years I've been lugging around the Starbucks Via instant coffee sticks; they're a great way to ensure I've got access to daily caffeine (important when I'm working) and easy to share with fellow travelers. (A guide in Alaska several years ago put me onto the trick that you can just shoot down the powder… not ideal but gets the job done for long days on the water!)
YETI Rambler Tumbler in seafoam ('cause color, you know). Speaking of coffee; the YETI Rambler is my morning go-to coffee mug. It's then washed and left to dry by the sink, only to be picked up hours later for it for a lunch or dinner smoothie. Easy to clean, insulating (no more wrapping dish towels around my smoothie cups!) and pretty darn cute, it gets daily use when I'm home in Montana and usually ends up traveling with me on the road as well.
The Magslider lid means I can dash out the door with a full mug and not worry about losing the majority of my daily caffeine intake to the interior of my Subaru. Bonus: it doesn't get too funky if I forget to wash it and it spends an afternoon in the car… or a week, as evidenced when I downed coffee on the way to a recent flight and then left the cup in the car. Alpine Start's Original Blend is a comfortable medium roast that's not overly acidic, and is quite good even just black —  critical for travel! The little packets can easily fit into a packet or camera bag, ensuring easy caffeine consumption regardless of the circumstances.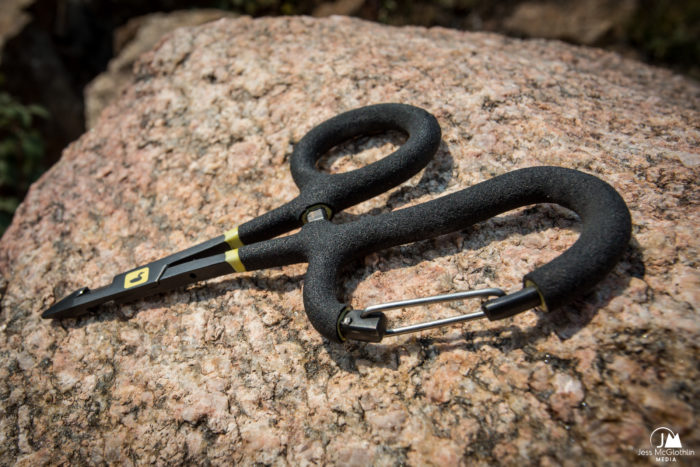 Summertime means I want as little get as possible to lug around (it's hot out) and versatility is key. The Loon Rogue Quickdraw Forceps have become part of my summer arsenal; the cushy grip doesn't slide around if my hands are wet or sweaty, and the scissor / flat geometric jaw hemos get the job done when changing flies, releasing fish that have taken the fly deep, or even fixing that runaway strap on my camera pack. And the carabiner finger loop means I can clip them anywhere – pant loop, camera bag, sling pack…
Keeping on the theme of simplicity, the Helly Hansen Sensei Singlet has become my new favorite gym / SUP tank top. The easy fit and breathable fabric let me focus on the job at hand, whether that's sneaking a cast to that lurking cutthroat or logging miles on the trail. (It packs to practically nothing, too.)
Those who know me, know that I practically live in an ancient teal-colored Patagonia Nano Puff. That jacket's been around the world in the past five years, and has the wear-and-tear to show for it. Duct tape patches periodically take up residence on the threadbare elbows, and it's got more than one rip from fly barbs and general travel. Suffice to say, I feel I've gotten my money's worth out of the jacket.
That's why I was so stoked to have a new Tough Puff Hoody from Patagonia arrive a few weeks ago. An angler's upgrade to the original Nano Puff series, the Tough Puff fits just a bit better than my old Nano (longer   in the sleeves and the waist, which means it'll stay put under waders) and features a two large chest pockets that will soon be filled with small fly boxes, lens caps, and other random items of the trade. Bonus? Stretchy fabric. That makes me happy… no doubt this jacket will log some serious miles in the seasons to come. (Is there such a thing as a jacket passport?)
Little known fact: a long time ago, I sold hiking and hunting footwear in an outdoor store. Shoes are always something I'm keen on, and I've been eyeballing the Olukai 'Ohana flips for years; this spring I finally broke down and bought a pair. There's a reason you see people who own Olukai own more than one pair… the sandals are functional (non-marking and uber-grippy) and the sole is like an orthotic. Comfy and functional for the win… these are my go-to. This past week they went from meetings in Los Angeles to the river in less than twenty-four hours, rocking both circumstances in the plane rides in between with admirable comfort.
*** Full disclosure, some of these items have been sent my way, others I've paid hard-earned money for. At the end of the day, they're all products I'd buy again and recommend to friends!
Tags: Gear