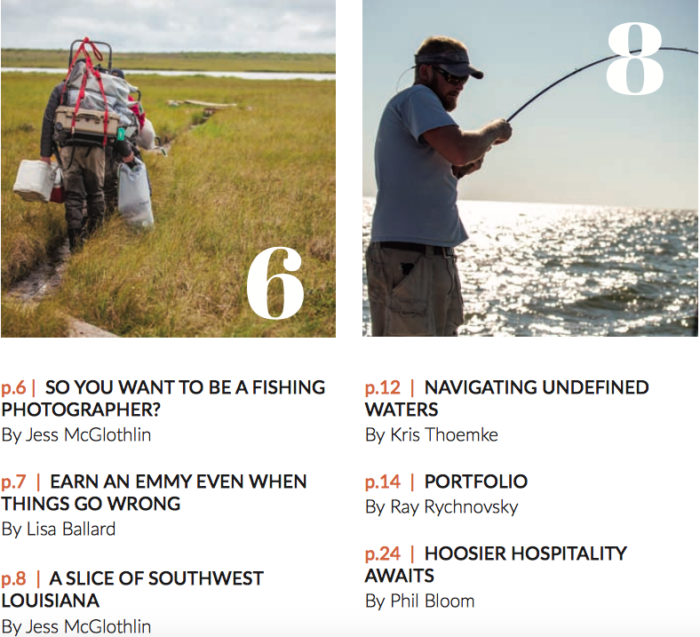 I had fun penning these two pieces for the October / November issue of Outdoors Unlimited, the publication of the Outdoor Writers Association of America. OWAA is a fantastic organization doing strong work to engage, support and encourage the growth of outdoor journalists in the States.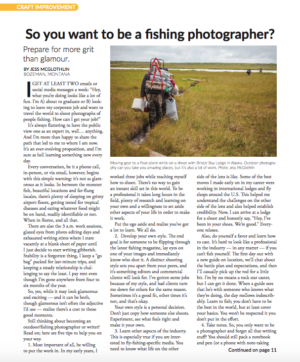 The first piece (page 6), a re-run of a blog feature I wrote several months ago, talks about the often-not-so-glamorous realities of being a traveling fly-fishing photographer (or really any outdoor photographer). Spoiler: it's not all glamorous locations, big fish and flashy resorts. As I noted in the original piece: "In between the monster fish, beautiful locations and far-flung locales, there's plenty of sleeping on grimy airport floors, getting tested for tropical diseases and eating whatever food might be on hand (readily identifiable or not. When in Rome, and all that)." Hopefully this serves as a bit of a reality check for the myriads of aspiring outdoor journalists who only see the romantic side of the industry. Don't get me wrong — it's an incredible way to explore the world, push boundaries and meet new people — but it comes at a significant cost.
The second piece (page 8) details one of the most surprising destinations I've visited in the past year. Southwest Louisiana is a veritable treasure trove of adventures — both culinary and outdoors – and is far enough removed from the glitz and glamor of New Orleans to offer a real slice of Louisiana life. I visited this spring, and was blown away by the region and, even more so, by its people. I'm planning a return visit next spring for Contraband Days, a festival celebrating the area's impressive pirate history (I can't be the only one who grew up on tales of Jean Lafitte.) I'd recommend a visit to anyone looking for a little something out of the ordinary.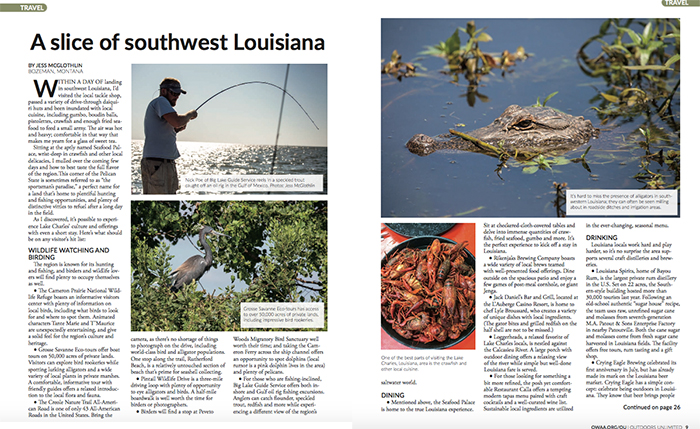 Tags: Publications